The meaning of the phrase "business as usual" changed dramatically in March 2020, when most Americans switched from out-and-about to shelter-in-place and many began working from home. Since then, homeowners have faced the challenge of carving out or building small home offices in places they never imagined. Instead of taking over the dining room or repurposing a guest bedroom, homeowners like Jeremiah Owyang are getting really creative — setting up unique home offices suited to their jobs, in ways that give them the privacy and space they need to adapt to the new business as usual.
---
What: 22-foot-long (176 square feet) RV
Where: Silicon Valley, California Monthly
Payment: $370
Inside: High-tech video conferencing setup connecting Owyang with corporate executives around the world
---
Customizable options, personalized advice
Talk to a Farmers® agent about
property coverage for your
business.
As a tech-trend analyst who has founded several research firms in California's Silicon Valley, Owyang, 44, has spent most of his work life on the road, taking the stage in crowded convention halls around the world to speak, moderate panel discussions and tell executives how new technologies could impact their businesses. California's stay-home and social-distancing lockdown shifted all those personal appearances to online conferencing sites.
Setting up an office inside his home, where his family also was sheltering, wasn't an option. "In my line of work, working with corporate executives, privacy is critical," Owyang says. Renting office space in Silicon Valley, land of some of the most expensive real estate in the country, seemed extravagant.
So he started thinking — and remembered his love of the classic aluminum-clad RV. "It's such an iconic design and really signifies the spirit of adventure, but it was my friend Ben who pointed out it would fit nicely in my backyard and be a good office," says Owyang. Crunching the numbers added to its appeal.
"When I did the cost analysis, I found that this RV is one-third the expense of renting a private office in Silicon Valley," he says. The workspace expense would provide a tax deduction for Owyang as well. And Owyang believes it was a safe investment, because the pandemic has boosted demand for RVs. (From July 2019 to July 2020, RV sales rose 53 percent, according to the RV Industry Association.)
"When I did the cost analysis, I found that this RV is one-third the expense of renting an office in Silicon Valley."
The RV he chose holds its value well, he adds. And because his house is steps away, he doesn't need to use the RV's bathroom or kitchen — reducing wear and tear. "It should be an easy asset to sell, especially in the Bay Area, which has so many coastal camping spots," Owyang says.
After checking out a few different models and running the math on costs, Owyang settled on a $50,000 22-footer. He secured a 20-year loan and pays $370 per month. The RV is parked in his backyard, giving him a morning commute of exactly 19 steps. And he gets to spend his day close to his family.
Buying the RV was the easy part, Owyang says. The real challenges were creating the illusion of a traditional workspace for video conferences and upgrading the RV's electronic connections to make video conferencing seamless and glitch-free. He added decorative pillows, plants, books and gentle lighting to warm up the environment.
To find out what equipment would work best, he interviewed streaming experts and professional speakers who were video-savvy. He spent $1,800 on ring lights, a camera and a wireless microphone (lavalier) but notes that budget webcams and lavaliers are available for much less. He plans to write off the business expense on his taxes.
He also ran a 110-volt electrical extension cord from his house, burying it a few inches in dirt. And because a fast digital connection is crucial, he's using a 1-gigabyte data line and a 5G Wi-Fi mesh router and repeaters. "I'm getting blazing speeds; 400 to 600 Mbps is common." His cable bill went from $150 a month to $200, which gave him unlimited data — a work expense that may also be tax deductible.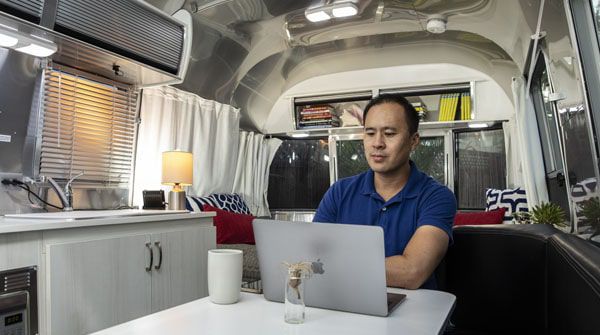 Wired for Working From Home
Los Angeles–based electrician John Klein offers tips on making sure the whole family can be online and working from home (and distance schooling) at the same time.
Boost Wi-Fi: Upgrading the router and investing in a repeater or extender will extend Wi-Fi coverage to places like basements and backyards, so they can be used for online work. 
Run a Speed Check: Test upload and download speeds, and consider upgrading service if having more people online at home has slowed connections and reduced bandwidth. Your internet provider can walk you through a speed test, or connect a computer directly to the router and run a check through a speed-test website.
Consider Fiber: If your neighborhood is wired with fiber optic, which can be faster than traditional cable, consider finding a provider to connect you. "My brother got it in his neighborhood, and they now have two adults and two teenagers all Zooming and working from home with no problems," says Klein.
Follow Code: Any wiring upgrade needed for a new home office should follow local electrical codes, for reasons of safety and resale value, Klein says. Tweaking a space that already has power can be a DIY project, he says. But "if you are upgrading your garage and will have a few people working in it, you'll need to hire a pro to install a subpanel for that area," says Klein. Adding a 60-amp subpanel can cost $2,000 and up, depending on what's needed for installation, and boosts capacity enough for lights, computers, outlets and a printer. 
Protect Devices: Plug computers, printers, other devices and appliances into surge protectors to keep power spikes, or surges, from damaging their circuits, Klein says. 

For now, Owyang has everything he needs to run his business from his RV indefinitely. (Many national companies have said their work-from-home policies may be here to stay; major tech giants in Silicon Valley have said they'll let their employees work remotely until summer 2021.)
He does miss one thing about his old life: "I often have dreams about traveling again." The only other downside of working in his RV, he says, is that when summer temperatures cranked up, the AC was noisy. Like many people working at home, he's creating new ways to do other things he likes safely, like exercising outdoors, in a mask, instead of hitting the gym.
He's also put himself in charge of maintaining his new office on wheels, so it stays in tiptop shape. "Just recently, I gave it an exterior wash," he says. "You don't have to do that in a corporate office."
Home Workforce
Pre-pandemic, only about 7 percent of workers in private industry worked from home, according to a 2019 survey by the federal Bureau of Labor Statistics. By April 2020, 42 percent of the labor force was working from home, according to the June 2020 Policy Brief issued by the Stanford Institute for Economic Policy Research.
Written by
Maria Neuman
The information contained in this page is provided for general informational purposes only. The information is provided by Farmers® and while we endeavor to keep the information up to date and correct, we make no representations or warranties of any kind, express or implied, about the completeness, accuracy, reliability, suitability or availability with respect to this article or the information, products, services or related graphics, if any, contained in this article for any purpose. The information is not meant as professional or expert advice, and any reliance you place on such information is therefore strictly at your own risk.