Homeowners Insurance
Learn more about what it means to be a Farmers
customer by starting your quote today.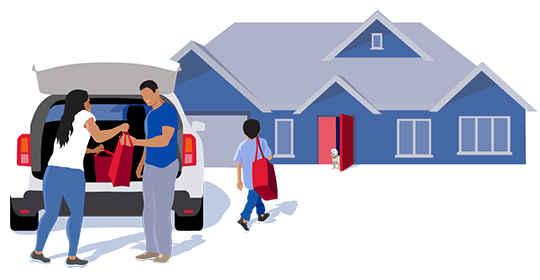 How do you define dream house? You might've chosen a Spanish-style hacienda on your favorite golf course, a center-hall colonial in a great school district, or a perfectly restored mid-century modern. Your home is a major investment, but — more than that — it's where you raise a family, entertain friends and create lifelong memories.
Whether you live in the perfect starter house, a custom-built dream home or something in between, one thing is true: You want to protect the life you've made there.
Farmers Smart Plan Home®
Farmers Smart Plan Home policy uses three highly customizable packages as a starting point:
Designed for homeowners who are just starting out, the Standard package balances affordability with features that really matter. This package also makes it easy to choose higher limits for a few unusually valuable items.
Established homeowners tend to want more — the Enhanced package accommodates higher policy limits and includes several extra features like covering the costs to replace your roof and contents without deducting depreciation.
The Premier *package comes with the highest limits and coverage on personal property, and can include Guaranteed Replacement Cost coverage for your home if certain requirements are met. When Guaranteed Replacement Coverage applies, Farmers will reimburse 100% of the cost of rebuilding after a covered loss on the same premises, regardless of your policy's limits.
Within each of these packages, you have tremendous flexibility — you can raise or lower limits in virtually every type of coverage, and add or change coverage. Your Farmers agent can show you how each change will affect your premium.
Call 1-800-218-7175 for a quote.
*The Premier package isn't available in California. Please ask your agent about the Farmers Next Generation® package there.
Industry-leading standard homeowners insurance features
No matter which package you choose, your Farmers Smart Plan Home policy automatically provides these added features at no additional cost:
Declining Deductibles

®
Earn $50 toward your deductible each year your policy remains in-force.*
Claims Free Discount®
Receive a discount if you've been claim-free for three or more consecutive years — even if you've recently come to Farmers from another insurer.
Claim Forgiveness
If you've been claims-free with Farmers for five continuous years, this benefit prevents your premium from increasing as a result of your next claim.
Here are some typical situations in which Farmers homeowners insurance can help:
There's a fire in your kitchen
Risk:
You act quickly and prevent a grease fire from getting out of control, but smoke damages the counters and cabinets in your kitchen.
Coverage:
Property coverage in your policy can help if your house is damaged by fire and/or smoke.
Thieves strike while you are away
Risk:
You return from a family vacation to discover thieves have stolen electronic equipment from your media room.
Coverage:
If your possessions are stolen, damaged or destroyed in an insured loss, your coverage can help replace them, up to the policy's stated limits.
A visitor is injured
Risk:
A guest at your annual Fourth of July barbecue trips on the steps between your deck and the lawn — fracturing his wrist when he falls against a stone retaining wall.
Coverage:
Medical payments coverage can cover the medical costs if a visitor is hurt on your property, regardless of liability.
A tornado hits
Risk:
You heard the warning sirens and escaped uninjured, but you can't live in your house while tornado damage is repaired.
Coverage:
Coverage for additional living expenses can help with the extra cost of temporary relocation caused by a covered event.
Losses away from your home
Instance where your homeowners insurance could help:


Your jewelry is stolen
Risk:
You mastered the basics of surfing during lessons in Hawaii — but your wedding ring is stolen.
Coverage:
With personal possessions coverage, lost jewelry is covered up to your policy limits.
You lose your passport
Risk:
While on vacation in Europe, you lose the tote bag that has everyone's passports.
Coverage:
Your homeowners policy can help with the cost of replacing passports and other valuable papers.
Optional coverage that's popular with homeowners
Homeowners policies generally cover valuable items like jewelry, artwork and collectibles — but
usually at relatively low limits. With personal articles floaters, you can insure specific valuables at higher limits.
Farmers also offers coverage options like these:
You want to go green
Risk:
You want to "go green" when you rebuild after a fire — using eco-friendly materials and appliances.
Coverage:
With Eco-Rebuild coverage, you can receive up to $25,000 toward the extra cost of replacing materials and appliances with "green" alternatives.
Get brand new replacements
Risk:
An electrical fire destroys the 70-inch flat screen TV in your living room.
Coverage:
With Contents Replacement Cost Coverage, you'll be reimbursed for the cost of buying a new television of similar quality — not what your old TV was worth.
Your identity is stolen
Risk:
You discover you've become the victim of identity theft when a series of unfamiliar charges appears on your credit card statement.
Coverage:
Farmers Identity Shield can help with losses and expenses if your identity is stolen — you'll also receive help resolving the crime and replacing certain documents.
Maximize value with multiline discounts
You can get the most value from Farmers coverage with discounts when you buy multiple policy lines — be sure your homeowners insurance quote includes quotes for everything you insure:
Auto
Life
Business
Recreational
Umbrella
Farmers can also help you plan your financial future with Farmers Financial Solutions®.
View homeowners insurance coverage in your state
Select your state to see types and requirements
Farmers works to build strong customer relationships
Farmers has spent 90 years putting customers first. Are you shopping for coverage, or do you have a question about your policy? Maybe you're ready for a homeowners insurance quote. Whatever your insurance needs, Farmers agents are ready to deliver personalized service and support.
You'll experience a similar level of care from our knowledgeable claims representatives, who will provide assistance as quickly as possible.
To learn more about what Farmers can do for you, call an agent today.
Talk to a Farmers® agent about insurance for your home.
Learn about all the options and potential discounts so you can choose the coverage you want.
*DECLINING DEDUCTIBLES® IS NOT AVAILABLE IN CA & FL. 
DECLINING DEDUCTIBLES IS AVAILABLE WITH FARMERS® BRANDED SMART PLAN HOMEOWNERS POLICIES. Subject to terms and conditions. Underwritten by Farmers, Truck or Fire Insurance Exchanges or affiliated insurer. Products not available in every state.